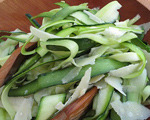 Prep: 10 min
Cook Time: –
Total: 10 min
Serving: 2 Servings
This raw zucchini salad made with Parmigiano Reggiano cheese has beautiful and vibrant presentation, as well as delicious fresh taste. You will need a vegetable peeler to achieve the long, thin strips.
Ingredients
2 large zucchini
1-1/2 ounces Parmigiano Reggiano cheese in a chunk
1/2 cup fresh basil leaves, torn into pieces
2 tablespoons olive oil
juice of 1 small Meyer lemon (or 1/2 small regular lemon)
sea salt to taste
Directions
Rinse the zucchini and trim off both ends. Using a vegetable peeler, peel off long strips of the zucchini, lengthwise, and then place into a shallow salad bowl. Do not use any of the zucchinis seedy core.
Take the chunk of cheese and use the peeler to make long strips. Add them to the bowl along with the fresh basil.
Drizzle the salad with the oil and then add the vinegar and a few pinches of salt. Gently toss the salad to combine and then serve.