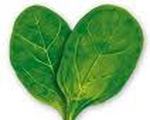 Prep: 30 min
Cook Time: 5 min
Total: 35 min
Serving: 4-6
A classic favorite, Raw Spinach Salad gets its zing from the sweet sour bacon dressing.
Ingredients
1 pound package raw spinach
1/2 pound bacon, fried and crumbled
1 cup fresh mushrooms
Dressing: 1/2 cup red onion, finely chopped
1 cup vegetable oil
3/4 teaspoon sugar
2 tablespoons ketchup
1/4 cup vinegar
2 teaspoons Worcestershire sauce
1/2 cup water
1/2 teaspoon salt
hard boiled eggs and tomato wedges as garnish.
Directions
Dressing: Heat together in a saucepan until it comes to a boil: onion, oil, sugar, ketchup, vinegar, Worcestershire saue, water, and salt. Cool.
Wash and break up spinach into pieces. Put sliced mushrooms on top of spinach. Crumble bacon over salad and top with dressing. Garnish.