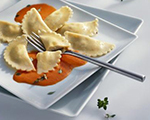 Prep: 10 min
Cook Time: 20 min
Total: 30 min
Serving: 4 Servings
Have some frozen ravioli and stir-fry vegetables on hand for this simple and delicious weeknight dinner solution.
Ingredients
2 teaspoons extra-virgin olive oil
2 cloves garlic, minced
2 teaspoons finely chopped fresh rosemary, divided
1 16-ounce package frozen stir-fry vegetables (bell peppers and onions)
1 14-ounce can diced tomatoes, undrained
1 cup individually quick-frozen spinach
Freshly ground pepper to taste
24 ounces fresh or frozen cheese ravioli
1/2 cup freshly grated Parmesan cheese
Directions
Cook the ravioli according to package directions, drain and place in a pasta bowl.
In the meantime, heat the oil in a large sauté pan, and sauté the garlic and 1 teaspoon of the rosemary for 1 minute.
Stir in the vegetables and the tomatoes and cook for 7 minutes, and then add in the spinach, remaining rosemary and a few grinds of fresh pepper. Cook for an additional 2 minutes and then transfer to the bowl with the pasta.
Toss the pasta with the sauce and serve immediately topped with the Parmesan cheese.