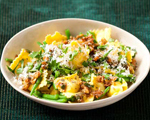 Prep: 19 min
Cook Time: 15 min
Total: 34 min
Serving: 4 Servings
This vegetarian dinner meal is loaded with superb flavor and texture. Use fresh ravioli sold in the refrigerator section of your local supermarket.
Ingredients
1-1/2 pounds steamed green beans, cut into 1/2-inch pieces
3/4 stick (6 tablespoons) unsalted butter
2 large garlic cloves, finely chopped
1/2 teaspoon salt
1/4 teaspoon freshly ground black pepper
1/3 cup finely grated Parmigiano-Reggiano, plus additional for serving
2 (9 ounce) packages fresh four-cheese ravioli
1/4 cup finely chopped fresh parsley leaves
Directions
Place the butter in a large sauté pan over medium heat, and cook for 2 minutes.
Add in the garlic, salt and pepper, and cook for 1 minute before adding the beans and the cheese. Stir the bean mixture to combine and then set aside.
In the meantime, cook the ravioli according to package directions, drain and then add to the sauté pan with the bean mixture.
Gently toss to combine the ingredients and then serve the pasta topped with the fresh parsley and the additional cheese.