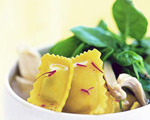 Prep: 5 min
Cook Time: 20 min
Total: 25 min
Serving: Serves 4
This hearty ravioli and chicken soup is given exotic flavor and color with the addition of saffron. Ladle the soup into bowls and serve hot with slices of crispy French baguette.
Ingredients
1-1/2 tablespoon olive oil
12 ounces skinless, boneless chicken breast, cut into 1/2-inch cubes
6 cups reduced-sodium chicken broth
1/2 cup sliced leek or chopped onion
1 tablespoon finely chopped peeled fresh ginger
1/4 teaspoon saffron threads, slightly crushed
1 9-ounce package vegetable ravioli
1/2 cup fresh baby spinach leaves or shredded fresh spinach
Directions
Place the oil into a large sauté pan over medium-high heat. Once it begins to shimmer, add the chicken and cook for 4 minutes, stirring frequently.
Slowly pour in the broth and then stir in the leek, ginger, and saffron. Bring the mixture to a boil and then add the ravioli. Return the mixture to a boil and then reduce the heat to medium and cook for 8 minutes.
Serve the soup hot, topped with the fresh spinach.