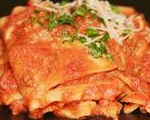 Prep: 30 min
Cook Time: 45 min
Total: 1 hr 15 min
Serving: 6-8 servings
A layered ravioli and beef casserole dinner.
Ingredients
1 pound lean ground beef
1 teaspoon garlic powder
1 large onion, chopped
2 zucchini grated
1/4 cup butter
1 (28 ounce) jar spaghetti sauce
1 (25 ounce) package cooked ravioli with portobello mushrooms
1 (12 ounce) package shredded mozzarella cheese
Directions
Preheat the oven to 350 degrees Fahrenheit. Grease a 9x13-inch dish.
Brown the beef in a skillet. Drain. Mix in the garlic powder and 1/2 teaspoon salt.
Add the onion, zucchini and butter to a saucepan. Heat until tender-crisp and then stir in the spaghetti sauce.
Spread 1/2 cup of the sauce mixture into the bottom of the prepared pan. Layer half of the ravioli, spaghetti sauce, beef and cheese. Repeat, omitting the top layer of cheese.
Bake covered for 35 minutes. Sprinkle the remaining cheese on and let stand for 10 minutes before serving.