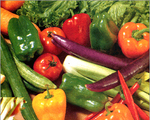 Prep: 30 min
Cook Time: 30 min
Total: 1 hr
Serving: 6
Ratatouille is a classic French medley of vegetables.
Ingredients
4 small yellow squash
4 small zucchini
1 large eggplant, cubed, unpeeled
2 medium green peppers, diced
1 large onion, chopped
3 garlic cloves, crushed
1/2 cup flour
1/3 cup vegetable oil
1, 32 ounce jar meatless spaghetti sauce
1 cup dry white wine
Directions
Cut squash and zucchini into strips. Toss eggplant with flour in a large bowl. Set aside.
Saute zucchini, yellow squash, peppers, onion and garlic in 2 tablespoons vegetable oil in large skillet for 5 minutes. Remove with slotted spoon.
Add remaining oil to skillet and saute eggplant just until brown and almost tender. Add spaghetti sauce, wine and vegetables; cook stirring about 10-20 minutes or until vegetables are tender and sauce is thickened.