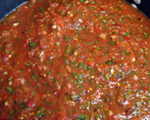 Prep: 10 min
Cook Time: 30 min
Total: 40 min
Serving: Makes about 8 Servings
Like the name suggests, this sauce is perfect topped on eggs but feel free to use it on tacos, enchiladas, and wraps as well.
Ingredients
1 tablespoon olive oil
3/4 cup yellow onion
1/2 cup chopped red bell pepper
1/2 cup chopped green bell pepper
1 teaspoon ground cumin
1/2 teaspoon sea salt
1/4 teaspoon cayenne
1 tablespoon minced jalapeno
1 teaspoon minced garlic
1 cup tomatoes and their juice
1/2 chicken stock
3 tablespoons chopped cilantro
Directions
Place the oil into a large sauté pan over medium-high heat. Once the oil begins to shimmer, add the onions and peppers and sauté for 5 minutes, stirring frequently.
Sprinkle in the cumin, salt, cayenne, jalapeno and garlic and cook for 1 minute before adding the tomatoes and cooking for an additional 2 minutes.
Pour in the stock and bring the mixture to a simmer. Cook for 20 minutes and then remove the pan from the heat and stir in the cilantro. Serve immediately.