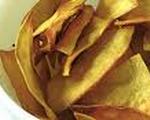 Prep: 10 min
Cook Time: 8 min
Total: 18 min
Serving: 2
What do you do with soft flour tortilla wraps before they go stale? Make chips, of course!
Ingredients
2 large soft flour tortillas
2 to 3 tablespoons light Ranch salad dressing
Onion powder
Salt
Pam cooking spray
Directions
Preheat the oven to 400 degrees F. Spray a cookie sheet with Pam; put the tortilla wraps on the cookie sheet. Cut tortilla wraps into triangles, starting from the middle as you do with a round pizza.
Sprinkle with a very small amount of Ranch salad dressing; spread the dressing around with the back of a spoon.
Sprinkle lightly with onion powder and salt. Bake in the oven 6 to 8 minutes, or until they begin to brown.