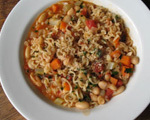 Prep: 10 min
Cook Time: 22 min
Total: 32 min
Serving: 4 Servings
Fagioli is a traditional Italian soup made with pasta and beans. In this recipe ramen noodles are used to get this dish on the table in less than 30 minutes.
Ingredients
1 small onion, finely chopped
2 cloves garlic, finely chopped
1/4 teaspoon salt
1/4 teaspoon dried oregano
2 tablespoons olive oil
1 celery rib, diced
1 carrot, diced
1-1/2 cups reduced sodium chicken broth
1/2 cup water
1 14- to 15-ounce can diced tomatoes in juice, drained
1 15- to 16-ounce can white beans, rinsed and drained
1 3-ounce package ramen noodles, coarsely broken in package; flavor package discarded
3 tablespoons finely chopped fresh parsley
freshly ground black pepper
Garnish with grated Parmesan cheese
Directions
Put the onion, garlic, salt and oregano in a large saucepan over medium heat, and cook, stirring frequently, for 5 minutes.
Stir in the celery and carrot and cook for an additional minute.
Pour the broth and water into the pot and cook the mixture, covered, for 8 minutes.
Stir in the tomatoes and beans and cook for 5 minutes, then add the noodles and cook for an additional 3 minutes.
Add the parsley and then season the dish with salt and pepper to taste.
Serve garnished with Parmesan cheese.