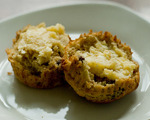 Prep: 10 min
Cook Time: 15 min
Total: 25 min
Serving: Makes about 18 muffins
With over one cup of juicy raisins in these bran muffins, you get all the sweetness of a dessert without having to add exorbitant amounts of refined sugar. Use dark or golden raisins.
Ingredients
3 cups bran cereal
1 cup boiling water
1/2 cup (1 stick) butter, cut into chunks
1 cup sugar
2 large eggs
2 cups buttermilk
1-1/4 cups raisins
2-1/2 cups all-purpose flour
2-1/2 teaspoons baking soda
1 teaspoon salt
Directions
Preheat your oven to 400 degrees and lightly grease a muffin tin with butter or oil.
Sift the flour, baking soda and salt into a bowl, stir to combine and then set aside.
Place the bran flakes and the chunks of butter into a large bowl and then add the boiling water. Stir the mixture well until the butter has completely melted, and then add the sugar and the eggs.
Add the buttermilk and raisins, mix to blend, and then slowly stir in the flour mixture, mixing until just combined.
Fill the muffin tin cups 3/4-full with the batter and then cook in the oven for 15 minutes or until the muffin tops spring back when gently pressed with your finger. Allow the muffins to cool in their tins prior to serving.