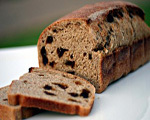 Prep: 15 min
Cook Time: 30 min
Total: 45 min
Serving: Makes 1 loaf
This sweet bread can accompany any breakfast dish, or can simply be served over coffee. Use dried cranberries or apricots instead of raisins for a different variation.
Ingredients
1/3 cup raisins
3 tablespoons butter
1/3 cup brown sugar
1 egg
1/2 teaspoon vanilla
1/2 cup flour
1/4 teaspoon baking powder
1/4 teaspoon salt
1 tablespoon sugar
1/4 teaspoon cinnamon
Directions
In a bowl, cover raisins with boiling water, then let stand for 5 minutes. Drain and set aside.
Mix together butter and brown sugar.
Add egg and vanilla and mix until well blended.
In a separate bowl, mix together flour, baking powder and salt. Stir into egg mixture.
Fold in raisins.
Pour batter into a prepared loaf pan.
Mix together sugar and cinnamon; sprinkle over top of batter.
Bake at 325 degrees for 25-30 minutes.