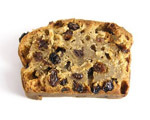 Prep: 15 min
Cook Time: 50 min
Total: 1 hr 5 min
Serving: Makes 2 loaves
This moist bread accompanies any breakfast dish well. Also makes a cozy afternoon snack alongside a hot cup of coffee.
Ingredients
3 cups flour
2 cups sugar
1 teaspoon baking powder
1 teaspoon salt
1 teaspoon cinnamon
1 teaspoon nutmeg
1/2 teaspoon baking soda
3 eggs
1 cup vegetable oil
2 teaspoons vanilla
1 cup grated zucchini
1 cup grated carrot
1/2 cup mashed banana
1/2 cup raisins
1/2 cup chopped nuts
Directions
Mix together flour, sugar, baking powder, salt, cinnamon and nutmeg.
Beat in eggs, vegetable oil and vanilla.
Fold in zucchini, carrot, banana, raisins and chopped nuts.
Pour batter into greased loaf pans.
Bake at 350 degrees for 45-50 minutes.