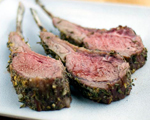 Prep: 20 min
Cook Time: 25 min
Total: 45 min
Serving: Serves 4
This is a winning dish both for a Sunday dinner with the family or as a posh dinner party main course. Serve with buttery fingerling potatoes and French beans drizzled in olive oil.
Ingredients
1 cup (packed) parsley leaves and stems
4 tablespoons chopped fresh rosemary plus rosemary sprigs
4 tablespoons grated Parmesan cheese
3 garlic cloves
6 tablespoons olive oil
1 1-1/2-pound rack of lamb
Sea salt and freshly ground black pepper
Directions
Preheat the oven to 450 degrees and place the oven rack in the center of the oven.
Using a food processor, process the parsley, chopped rosemary, grated Parmesan cheese, garlic and a few pinches of salt and pepper into a thick paste.
Slowly, with the food processor on, pour the olive oil down the processor flute and mix until smooth.
Put the lamb in a large baking sheet and sprinkle thoroughly with salt and pepper. With a sauce brush, apply the pesto all over the lamb, coating evenly.
Put the lamb in the oven and roast for 10 minutes. Reduce the heat to 400 degrees and then cook for an additional 15 minutes for medium-rare doneness
Remove the lamb and place on a cutting board. Cut the lamb between the bones and place the chops onto serving plates.