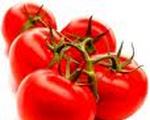 Prep: 10 min
Cook Time: 1 hr 10 min
Total: 1 hr 20 min
Serving: 6
Rack of Lamb with Roasted Tomatoes is an elegant dinner.
Ingredients
1, 4 pound rack of lamb roast
2 garlic cloves, sliced
1 1/2 teaspoons garlic pepper
1 1/2 teaspoons ground cumin
2 tablespoons fresh rosemary, chopped
2 tablespoons fresh marjoram, chopped
8 large Roma tomatoes, halved
1 tablespoon olive oil
Directions
Preheat oven to 400 degrees F. Cut thin slits in roast and insert garlic slices. Rub roast evenly with garlic pepper and cumin. Coat evenly with rosemary and marjoram. Place roast on rack in a shallow pan. Place in oven; reduce heat to 325 degrees F. Roast 30 minutes.
Meanwhile rub tomatoes with oil. Place on roasting rack around lamb. Roast 30 minutes more or to desired doneness.
Remove lamb and tomatoes from oven. Loosely cover lamb; let stand 5 to 10 minutes. Serve lamb with tomatoes.