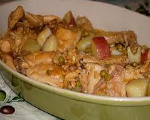 Prep: –
Cook Time: 2 hr 15 min
Total: 2 hr 15 min
Serving: 5-6 servings
Southern style rabbit stew recipe.
Ingredients
2 medium rabbits
8 cups water
1 1/2 tablespoon salt
1 1/2 teaspoon pepper
1 1/2 cups cooked corn
2 small onions, chopped
5 small potatoes, quartered
2 1/2 cups diced tomatoes
1/2 pound salt pork
1 1/4 tablespoons butter
1 tablespoon flour
Directions
Boil the water in a large pot. Mix in the rabbit, salt and pepper. Return to a boil.
Add in the corn, onion, tomatoes and pork. Cover and cook on low for 1 hour.
Add the potatoes, cook 45 more minutes, stirring periodically.
Combine the flour and butter to make a paste, stir into the stew. Simmer for 20 minutes.