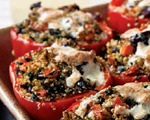 Prep: 30 min
Cook Time: 20 min
Total: 50 min
Serving:
A little preparation is all it takes to make these stuffed pepper that will fill you up instead of out.
Ingredients
2/3 cup quinoa, rinsed and drained
6 red bell peppers
1 tablespoon olive oil
3/4 cup diced carrots
1/2 red onion, diced
1 (10 ounce) package frozen spinach, thawed and drained
1 (15 ounce) can red kidney beans, rinsed and drained
1 teaspoon chili powder
1/2 cup grated part-skim mozzarella
Directions
Preheat oven to 350 degrees F. Boil 1-1/3 cups water in a saucepan; add quinoa. Reduce heat, cover, and simmer for 15 minutes. Keep covered; set aside.
Remove pepper tops, stems, and seeds. Bring a large pot of water to a boil. Add peppers; boil for 5 minutes, and drain.
Heat oil in a skillet over medium heat. Add carrots; cook for 3 minutes. Add onion; cook for 5 minutes more. Stir in spinach and beans. Remove from heat and mix in quinoa and chili powder.
Fill peppers with quinoa mixture and place upright in a baking dish. Sprinkle with cheese. Add just enough water to form a very thin layer in the bottom of the dish. Bake for 20 minutes or until tops are lightly browned. Serve immediately.