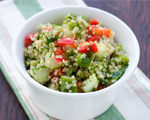 Prep: 20 min
Cook Time: 13 min
Total: 33 min
Serving: 4 Servings
Quinoa is a healthier and more flavorful alternative to rice in this Greek-inspired salad. You can also sprinkle in pitted and chopped kalamata olives for an even more authentic Mediterranean flavor.
Ingredients
4 medium radishes, very thinly sliced
1/2 pound thin green beans
1 cup quinoa, rinsed
1 large English cucumber, cut into 1/4-inch dice
3-1/2 tablespoons extra-virgin olive oil
Sea salt and freshly ground black pepper
2 tablespoons chopped flat-leaf parsley
3 tablespoons fresh lemon juice
6 ounces Greek feta cheese, crumbled
Directions
Bring a medium-sized pan of water to boil over high heat. Add the green beans and blanch for 3 minutes. Remove the beans and rinse under cold water. Drain, dry and cut into 1-1/2-inch pieces.
In another saucepan, bring 1-3/4 cups of water to a rolling boil. Pour in the quinoa and cook, covered, over low heat until the quinoa absorbs all of the water, approximately 10-12 minutes. Uncover the quinoa, fluff with a fork and allow to cool for about 15 minutes.
Place the cucumber with 1/2 tablespoon olive oil in a small bowl and season with salt and pepper.
Empty the quinoa in a large bowl and add the parsley, lemon juice and the remaining 3 tablespoons of olive oil. Season well with salt and pepper and then add the beans, radishes, cucumbers and the feta.
Toss gently until well combined and serve.