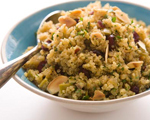 Prep: 5 min
Cook Time: 25 min
Total: 30 min
Serving: 2 Servings
Quinoa is a much healthier and more flavorful alternative to rice. Serve it as a side to any main dish menu.
Ingredients
3 tablespoons extra-virgin olive oil
1 medium yellow onion, diced
1 cup quinoa, rinsed and drained
2 cups low-sodium chicken stock
Sea salt and freshly ground black pepper
1/2 cup dried cranberries
1/2 cup chopped green olives
1/4 cup rough chopped fresh flat leaf parsley
1/3 cup sliced almonds, toasted
A squeeze of fresh lemon juice
Directions
Place the quinoa in a medium-sized saucepan over medium-high heat, and cook until lightly toasted and aromatic.
Remove the quinoa from the pan and set aside.
Add the oil to the pan and place over medium heat. Add in the onions and sauté for 4 minutes.
Return the quinoa to the pan and sprinkle with some salt and pepper. Pour in the stock and bring the mixture to a simmer.
Once simmering, cover the pan and cook the quinoa for 10 minutes.
Remove the pan from the heat and stir in the cranberries, olives, fresh parsley and almonds, and then add a drizzle of olive oil and a squeeze of fresh lemon juice.
Stir and serve warm.