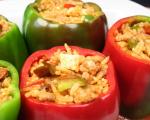 Prep: –
Cook Time: –
Total: –
Serving: Serves 4
Available in gorgeous bright hues, bell peppers are most commonly stuffed with a Mexican-style ground beef filling. This vegetarian stuffed bell pepper rendition is plump with a Mediterranean-inspired quinoa chickpea combination.
Ingredients
3/4 cup black quinoa, cooked according to package directions
4 bell peppers, preferably orange, yellow, or red
1 tablespoon olive oil
1/2 red onion, finely chopped
Salt and freshly ground black pepper
2 cloves garlic, minced
2 tablespoons minced fresh mint
2 tablespoons minced fresh cilantro
1 teaspoon dried oregano
1 cup canned chickpeas, rinsed, drained
1/2 cup crumbled feta
Directions
Preheat oven to 350 degrees F. As you are cooking the quinoa, set a large pot of water on the stove to boil. Slice the tops of the peppers off and remove seeds. Place peppers in the boiling water and cook for 5 minutes or until just tender. Drain cut side down on paper towels.
Meanwhile, heat oil in a medium skillet. Add onion and cook, stirring often, until tender. Season with salt and pepper. Add garlic and cook, stirring often for 1 minute. Stir in mint, cilantro, oregano and chickpeas, cooking until heated through. Remove from heat and stir in feta and cooked quinoa.
Set peppers cut side up in a 9-inch square baking dish. Fill peppers with quinoa mixture. Bake for 15 to 20 minutes. Serve warm.