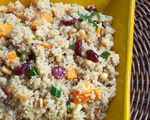 Prep: 10 min
Cook Time: 30 min
Total: 40 min
Serving: 8 servings
Quinoa makes a lovely, slightly nutty-flavored base for this hearty yet elegant salad. Nutrition-wise, it also surpasses any other pasta or grain you could use.
Ingredients
1 cup quinoa, rinsed
1 medium sweet potato, peeled and cut into 1/2-inch cubes
3-1/2 tablespoons extra virgin olive oil, divided
1/3 cup pine nuts
4 teaspoons apple cider vinegar
2 teaspoons honey
Sea salt and freshly ground black pepper
1/2 teaspoon ground cumin
1/2 teaspoon cinnamon
1/3 cup dried cranberries
4 scallions, sliced
Directions
Preheat your oven to 400 degrees Fahrenheit.
Cook the quinoa according to package directions.
In the meantime, put the sweet potato into a bowl, drizzle with 1/2 tablespoon of olive oil and add a sprinkle of salt and pepper. Toss well to coat and then transfer to a roasting pan. Bake the sweet potato for 30 minutes.
Place the pine nuts in a small skillet and toast over medium heat, stirring often, until golden and fragrant.
Combine the remaining olive oil, vinegar, honey, cumin, cinnamon and a few pinches of salt and pepper into a small bowl and whisk vigorously to combine.
Place the cooked quinoa, sweet potato, pine nuts, cranberries, and scallions into a bowl and then pour over the dressing. Toss gently to combine and then serve.