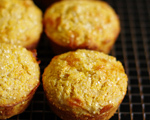 Prep: 10 min
Cook Time: 22 min
Total: 32 min
Serving: Makes 12 muffins
Quinoa, also known as 'little rice,' is a small round, highly nutritious seed whose cultivation dates back to the Incas in Peru. Use it interchangeably with rice and other grains; just make sure to rinse it thoroughly before using to remove its bitter coating.
Ingredients
1-1/2 cups stone-ground cornmeal
3/4 cup cooked quinoa
1/2 cup all-purpose flour
1-1/2 cups buttermilk
2 tablespoons flaxseed
2 tablespoons vegetable oil
1 teaspoon baking powder
1/2 teaspoon salt
1/2 teaspoon baking soda
3 egg whites
Directions
Preheat your oven to 400 degrees and grease a muffin tin with cooking spray.
Place all of the ingredients into a large bowl and beat well to combine.
Spoon the batter into the prepared muffin tins; place into the oven for 22 minutes to bake. Remove the muffins immediately from the pan and place on a wired rack to cool.