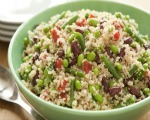 Prep: 60 min
Cook Time: 15 min
Total: 1 hr 15 min
Serving: Serves 4 people
A food super-high in protein, quinoa is extremely nutritious and offers a change of pace from other grains. Quinoa and Bean Salad is colorful and delicious.
Ingredients
1-1/2 cups of frozen cut green beans
1-1/3 cups of water
3/4 cup of uncooked quinoa, rinsed and drained
1, 15-ounce can of great northern beans or black beans, rinsed and drained
1/4 cup sliced green onions
1/2 cup of diced fresh tomato
3 tablespoons of lemon juice
2 tablespoons of olive oil
1 tablespoon of chopped fresh basil
1/2 teaspoon of salt
1 garlic clove, minced
4-5 drops of hot pepper sauce
4 leaf lettuce leaves
Directions
In a medium saucepan, combine the green beans, water and quinoa. Bring this to a boil, then reduce heat to simmer until the water is absorbed (about 12-15 minutes). Remove from heat and let cool for about 10 minutes.
In a medium bowl, combine the quinoa mixture. Add the great northern (or black) beans and onions and the tomato. Mix together. Cover and refrigerate for at least an hour.
In a small bowl, combine the lemon juice, oil, basil, salt, garlic and hot pepper sauce. Whisk together well. Refrigerate until you're ready to serve the salad.
Before serving, pour the dressing over the salad and toss to coat. Serve the salad on the lettuce leaves on individual plates.