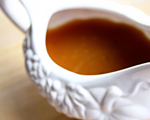 Prep: 15 min
Cook Time: 10 min
Total: 25 min
Serving: 4 cups
This recipe explains how to make simple yet authentic gravy from your roasted turkey.
Ingredients
4 cups chicken stock or broth
1/4 cup water
3 tablespoons cornstarch
Sherry, port or Madiera to taste
Salt and freshly ground black pepper to taste
Directions
After roasting the turkey, remove the roasting pan from under the bird.
Remove and discard any accumulated fat from the pan, making sure to hold on to any juices or browned bits, by skimming off with a spoon.
Place the pan over two burners set on medium heat, and then stir in the chicken stock or broth.
Once the mixture begins to simmer, scrape the pan with a spoon to loosen any browned pieces and then reduce the heat to medium-low. Simmer the mixture for 5 minutes, stirring occasionally.
In a small bowl, mix together the water and the cornstarch until smooth and then add it to the roasting pan, whisking constantly to blend and then for one minute while cooking.
Season the gravy with some sherry, port or Madiera to taste, and then with some salt and freshly ground pepper.