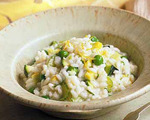 Prep: 20 min
Cook Time: 30 min
Total: 50 min
Serving: 6 Servings
This simplified version of risotto made with long-grain rice doesn't require the constant stirring the traditional recipe requires.
Ingredients
1/4 cup thinly sliced celery
1/4 cup thinly sliced shallots
2 cloves garlic, minced
1/8 teaspoon pepper
1 tablespoon butter
1 cup long-grain rice
1 14-ounce can reduced-sodium chicken broth
1-3/4 cups water
1/2 cup fresh or frozen peas, thawed
1/2 cup coarsely chopped zucchini
1/2 teaspoon finely shredded lemon peel
Directions
Place the butter into a saucepan over medium heat. Once melted, add the celery, shallots , garlic, and pepper and sauté for 2 minutes. Stir in the rice, cook for an additional 2 minutes, stiffing frequently, and then slowly stir in the broth and the water.
Bring the mixture to a boil. Once boiling, reduce the heat to medium-low and simmer the rice mixture for 25 minutes.
Add the peas, zucchini, and lemon peel to the pan, stir to combine and then cover the pan and let stand for 5 minutes before serving.