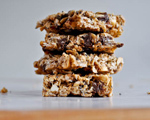 Prep: 5 min
Cook Time: 25 min
Total: 30 min
Serving: Makes 12-16 squares
When you are looking for a quick dessert or snack to satisfy your sweet tooth, whip up a batch of these peanut butter granola bars and enjoy! Feel free to add in chocolate chips, coconut, seeds or any other addition you may fancy.
Ingredients
4 cups rolled oats
2 tablespoons chia seeds
1/2 cup unsalted peanuts, chopped
3/4 cup natural peanut butter, melted
1/2 cup honey
Directions
Preheat your oven to 350 degrees and grease a 9 x 13 baking dish.
Place the oats, chia seeds and peanuts in a large bowl and toss to combine. Add the honey and the melted peanut butter and mix well until blended. If you are adding any additional ingredients, add them to the dough now.
Transfer the mixture to the prepared baking dish and press dough to cover the bottom of the pan. Place in the oven for 25 minutes and then remove and allow to cool slightly before cutting into squares.