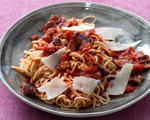 Prep: 10 min
Cook Time: 25 min
Total: 35 min
Serving: 4 Servings
Delicious Italian-inspired pasta sauce doesn't have to simmer on your stove for 4 hours to be good. In fact, a hearty, satisfying sauce can be made in just 35 minutes from start to finish.
Ingredients
1 tablespoon extra-virgin olive oil
1/4 onion, finely chopped
2 cloves garlic, chopped
2 cups canned whole tomatoes, tomato purée, or chopped tomatoes
1/4 teaspoon sugar
1/4 teaspoon chopped fresh rosemary leaves or a pinch dried
sea salt
Directions
Place a large sauce pan over medium heat and add the oil.
Once the oil begins to shimmer, add the onion and sauté for 2 minutes, stirring frequently, then add the garlic and sauté for 1 additional minute.
Stir in the tomatoes sugar, rosemary and a few pinches of salt, and then reduce the heat to low and simmer the sauce for 20 minutes. Make sure to stir the sauce frequently to prevent sticking.
Season the sauce to taste with additional seasoning if needed, and then serve immediately.