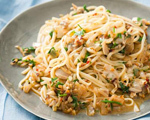 Prep: 15 min
Cook Time: 15 min
Total: 30 min
Serving: 4 Servings
This elegant pasta dish is a wonderful solution for unexpected dinner guests, as it can be made in just 30 minutes and you most likely have all of the ingredients in your pantry. Accompany this meal with a bottle of Italian Pinot Grigio or Verdicchio.
Ingredients
1/3 cup extra-virgin olive oil plus extra to drizzle
1 medium onion, chopped
4 garlic cloves, finely chopped
1/4 teaspoon hot red pepper flakes
1/4 teaspoon dried oregano
1/3 cup dry white wine
1 pound linguine
2 (6.5 ounce) cans chopped clams
2 tablespoons cold unsalted butter, cut into small pieces
1/4 cup chopped flat-leaf parsley
Directions
Place the 1/3 cup of oil into a large pot over medium-high heat. Once it begins to shimmer, add the onion and sauté for 5 minutes, then stir in the garlic, pepper flakes, and oregano and cook for an additional 2 minutes, stirring frequently.
Pour in the wine and bring the mixture to a boil. Cook for 2 minutes then add the clams and simmer for 4 minutes until slightly reduced. Remove the pan from the heat and whisk in the butter.
In the meantime, cook the pasta according to package directions, drain and then place in the pan with the clam mixture. Add a few pinches of salt and pepper and the chopped parsley, and then toss the mixture to coat. Serve immediately drizzled with some additional olive oil.