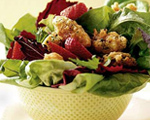 Prep: 15 min
Cook Time: 8 min
Total: 23 min
Serving: 6 Servings
Don't be put-off by the word 'fried' in this fried chicken recipe; this dish is actually low in fat and calories.
Ingredients
3/4 cup all-purpose flour
4 tablespoons snipped fresh purple or green basil
1 tablespoon finely shredded lemon peel
2 eggs, beaten
1 pound skinless, boneless chicken breast strips
2 tablespoons cooking oil
4 cups mixed spring salad greens
1 head radicchio, torn into bite-size pieces
2 cups sliced fresh strawberries
1/2 cup bottled balsamic vinaigrette salad dressing
6 Bibb lettuce leaves
Directions
Mix the flour, 2 tablespoons of the basil and the lemon peel together in a bowl and then place the beaten eggs into another bowl. Dip the chicken into the eggs and then dredge in the flour mixture to coat.
Place a large skillet over medium-high heat, and add the cooking oil. Once the oil begins to shimmer, add the coated chicken and cook for 8 minutes, turning once halfway through the cooking time. Set aside.
In the meantime, place the greens, radicchio, strawberries, and remaining basil into a salad bowl and drizzle with the balsamic vinaigrette. Toss the salad to coat and then top with the fried chicken. Serve immediately.