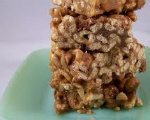 Prep: 15 min
Cook Time: 20 min
Total: 35 min
Serving: 9 bars
Quick cheerios, apple ring, and caramels bars.
Ingredients
Vegetable cooking spray
1 (14 ounce) package vanilla caramels
3 tablespoons milk
6 cup Cheerios
2 cups dried apple rings, chopped
Directions
Spray a 9-inch baking pan with the cooking spray.
Mix the caramels with the milk in a large Dutch oven. Stir and heat on low until smooth. Remove from heat.
Stir in the Cheerios and apple rings until evenly coated. Spread and press into the prepared pan. Refrigerate until firmed. Cut into 9 bars.