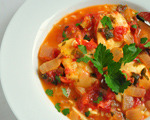 Prep: 10 min
Cook Time: 25 min
Total: 35 min
Serving: 4 Servings
This tomato and rice fish stew is given a unique twist of rich flavor with the addition of Pernod, an anise-flavored liqueur.
Ingredients
2 tablespoons extra virgin olive oil
1 large onion, diced
3 cloves garlic, minced
2 cups diced tomatoes (1 small can)
1 bottle clam juice
1/2 cup minced fresh parsley
1/4 cup Pernod
1 pinch saffron threads, crushed
1 pound fish fillet, white and firm
salt and pepper
1 cup jasmine rice
Directions
Cook the jasmine rice according to package directions.
In the meantime, place the oil into a large sauté pan over medium-high heat. Once it begins to shimmer, add the onion and sauté for 5 minutes, and then add the garlic and cook for an additional minute.
Stir in the tomatoes, clam juice, parsley, Pernod and saffron, and then bring the mixture to a boil. Cover the pan, reduce the heat to medium-low, and simmer the mixture for 5 minutes.
Sprinkle the fish with a few generous pinches of salt and pepper and then add to the pan. Cook the stew, covered, for 8 minutes and then ladle into bowls over the prepared rice.