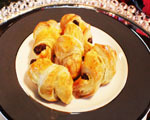 Prep: 15 min
Cook Time: 15 min
Total: 30 min
Serving: 12 people
This yummy quick chocolate croissant is a perfect pick me up.
Ingredients
1 sheet frozen puff pastry (1/2 of 17.3-oz. pkg.) , thawed
1 milk chocolate bar(4.4 oz.), broken into 6 pieces
1 egg, beaten
Directions
Heat oven to 375ºF.
Unfold pastry sheet; cut into 6 squares. Cut each square diagonally in half.
Place 1 chocolate piece near short side of each triangle; roll up, starting at short side. Press both ends of each roll-up tightly with fingers to seal. (Chocolate should be completely enclosed.) Shape into crescent shape; place on baking sheet sprayed with cooking spray. Brush with egg.
Bake 15 min. or until golden brown. Serve warm.
Nutrition Information Per Serving: 170 calories, 11g total fat, 4.5g saturated fat, 0g trans fat, 20mg cholesterol, 65mg sodium, 15g carbohydrate, less than 1g dietary fiber, 6g sugars, 3g protein, 0%DV vitamin A, 0%DV vitamin C, 2%DV calcium, 4%DV iron.