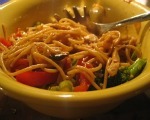 Prep: 10 min
Cook Time: 15 min
Total: 25 min
Serving: Serves 4 people
This traditional dish is made easy by using frozen veggies. Quick Chicken Lo Mein is a yummy classic. Feel free to substitute the vegetable of your choice.
Ingredients
1/2 pound of uncooked spaghetti
1/4 cup of any style sesame-flavored salad dressing
1 pound of boneless, skinless chicken breast, cut into strips
2 cloves of garlic, minced
1 package (16 ounces) of frozen bell pepper and onion mix, thawed and drained
1 small package (8 ounces) of frozen broccoli
1/2 cup of fat-free, reduced-sodium chicken broth
1 tablespoon of peanut butter
1/4 cup of light soy sauce
2 tablespoons of cilantro, chopped
2 tablespoons of peanuts, chopped
Directions
Cook the spaghetti according to boxed directions.
While the spaghetti is cooking, heat the salad dressing in a large, non-stick skillet over medium-high heat. Add chicken and garlic. Stir fry for three minutes or until the chicken is no longer pink.
Add the vegetables, broth and peanut butter and stir fry for another 3-4 minutes or until the chicken is cooked through.
Drain the spaghetti and return it to the pan. Add the chicken mixture and soy sauce and mix well.
Spoon spaghetti into a serving platter and sprinkle with peanuts and cilantro.