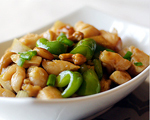 Prep: 15 min
Cook Time: 6 min
Total: 21 min
Serving: 4 Servings
This is a perfect mid-week dish to get out on the dinner table in a hurry. Make sure the cashews are roasted for extra flavor and crunch.
Ingredients
3 tablespoons soy sauce
1 tablespoons rice wine or dry sherry
2 teaspoon grated fresh ginger
1 pound boneless, skinless chicken thighs, cut into bite-size pieces
2 tablespoons water
1 teaspoon Worcestershire sauce
1 teaspoon Asian sesame oil
1/2 teaspoon sugar
1/4 teaspoon cornstarch
3 tablespoons peanut oil
2 green onions, chopped
1 cup salted roasted cashews
Directions
Mix together the soy sauce, rice wine and ginger in a large bowl and then add the chicken turning to coat. Set aside for 15 minutes to marinate.
In the meantime, combine 2 tablespoons water with the remaining 1 tablespoon soy sauce, the Worcestershire sauce, sesame oil, sugar and cornstarch. Mix until both the sugar and the cornstarch have totally dissolved in the mixture.
Place a wok or large sauté pan over high heat and add 2 tablespoons of the peanut oil. Drain the chicken from the marinade and add to the pan and stir-fry for 4 minutes. Remove the chicken from the pan and set aside on a plate.
Add the remaining 1 tablespoon of peanut oil to the pan and turn the heat up to high. Add the green onions and sauté for 15 seconds.
Add the chicken back into the pan with the cashews and cook for 1-1/2 minutes. Serve immediately over Chinese noodles or steamed white rice.