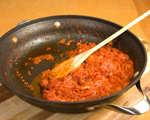 Prep: 10 min
Cook Time: 10 min
Total: 20 min
Serving: Makes enough sauce for 1 pound of pasta
Pepperoncini, otherwise known as Tuscan peppers, sweet Italian peppers and golden Greek peppers, are a variety of peppers that resemble bell and chili peppers. Combine them with garlic, oregano and olive oil to make this quick canned tomato sauce recipe.
Ingredients
1/4 cup extra virgin olive oil
2 cloves garlic, peeled and sliced
1 pepperoncini, chopped
2 teaspoons dried oregano, preferably Greek
1 can of chopped tomatoes (28-ounce can)
sea salt and freshly ground pepper
Directions
Place the oil, garlic, pepperoncini and oregano into a large sauté pan over medium-high heat and cook for 2 minutes. Stir in the canned tomatoes and then sprinkle the mixture with a few pinches of salt and pepper.
Once the mixture begins to simmer, reduce the heat to medium-low and cook for 10 minutes. Add additional salt and pepper if needed and then serve immediately.