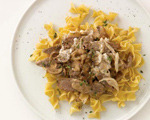 Prep: 5 min
Cook Time: 15 min
Total: 20 min
Serving: 4 Servings
Although this recipe for quick beef stroganoff can be made in just 20 minutes, its delicious and comforting flavor makes it taste like a slow, home-cooked meal. Serve with a crisp green salad and bottle of Merlot.
Ingredients
2 tablespoons extra-virgin olive oil
1 onion, thinly sliced
8 ounces cremini mushrooms, thinly sliced
1 teaspoon chopped thyme
Sea salt and freshly ground pepper
1 cup beef gravy
1/4 cup sour cream
12 ounces roast beef, sliced 1/4 inch thick and cut into strips
1 package noodles
1 tablespoon butter
Directions
Cook the noodles according to package directions, drain well and then place back into the pot. Add the butter to the noodles and toss to coat.
In the meantime, put the olive oil into a large sauté pan over medium heat. Once the oil is hot, add the onion, mushrooms, thyme and a few pinches of salt and pepper, and then sauté the mixture for 9 minutes, stirring frequently.
Stir in the gravy and bring the mixture to a boil. Add the sour cream and roast beef, stir well to combine and then cook for about 3 minutes or until mixture is heated through. Serve the stroganoff over the hot, buttered noodles.