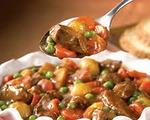 Prep: 15 min
Cook Time: 40 min
Total: 55 min
Serving: 6
Quick Beef Stew has a bit of sour cream and paprika to kick up the flavor.
Ingredients
1 1/2 pounds round steak, about 3/4 inch thick
3 tablespoons flour
1 tablespoon salt
1/2 teaspoon pepper
1/4 cup shortening
2 cups carrots, cut in 1 inch chunks
2 large onions, sliced
1 large potato, cut in 1 inch chunks
1 cup celery, sliced
1 cup mushrooms, sliced
1 bay leaf
1 cup sour cream
2 teaspoons paprika
Directions
Cut meat into 1/4 inch thick strips. On waxed paper, combine flour, salt and pepper; coat meat, reserving remaining flour mixture.
In large skillet over medium-heat, melt shortening, brown meat well. Add carrots, potatoes, onions, celery, mushrooms, bay leaf and 3 cups water. Simmer, covered, over medium heat 30 minutes or until meat and vegetables are tender.
Stir in remaining flour mixture and cook until thickened slightly, stirring constantly. Stir sour cream and paprika into stew; heat but do not boil.