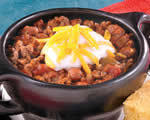 Prep: –
Cook Time: –
Total: –
Serving: 10
Lost track of time and need a quick yet super satisfying dish? Try this quick chili. Even if you only have time to simmer it for 15 minutes, it will be a victory dish for your hungry guests.
Ingredients
3 tablespoons vegetable oil
2 onions, chopped
2 pounds ground beef
2 tablespoons crushed garlic
1 (28-ounce) can roasted diced tomatoes
1 (8-ounce) can tomato sauce
1 cup beef broth
1 (28-ounce) can pinto beans, rinsed, drained
3 tablespoons chili powder
2 teaspoons dried oregano
3 tablespoons brown sugar
1 teaspoon salt
Freshly ground black pepper to taste
Finely chopped fresh cilantro
Directions
Heat oil in a large saucepan over medium heat. Add onions and cook, stirring often, for 5 minutes.
Add beef and cook, breaking beef apart with a spatula, until it is browned. Stir in garlic and cook for 1 minute.
Add tomatoes, tomato sauce, beef broth, beans, chili powder, oregano, brown sugar, salt and black pepper. Bring to a boil.
Reduce heat to medium low and simmer for 30 minutes. Serve garnished with cheese and cilantro.