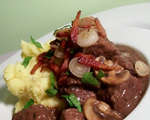 Prep: 15 min
Cook Time: 17 min
Total: 32 min
Serving: 4 People
Try Sandra Lee's money saving recipe for quick beef bourguignon today.
Reprinted with permission from Hoffman Media, LLC.
"Sandra Lee Semi-Homemade" magazine, www.semihomemademag.com
Ingredients
1 tablespoon olive oil
1 1/2 pound sirloin steak, cut into 1 1/2-inch pieces
1 teaspoon kosher salt
1 teaspoon ground black pepper
1, 8-ounce package sliced fresh mushrooms
1, 16-ounce package frozen pearl onions, Birds Eye®
2 cups red wine
1,10 3/4-ounce can condensed golden mushroom soup
Garnish: 1/4 cup chopped flat leaf parsley
Directions
In a large skillet, heat oil over medium-high heat. Sprinkle steak with salt and pepper. Cook steak, stirring occasionally, for 5 to 7 minutes, or until browned. Using a slotted spoon, transfer to a bowl, and set aside.
Add mushrooms and onions to pan and cook, stirring occasionally, for 5 minutes, or until liquid has evaporated. Stir in wine, scraping brown bits from bottom of pan with a wooden spoon. Bring to a boil, reduce heat to medium-low, and simmer for 5 to 6 minutes, or until reduced by half.
Increase heat to medium-high. Stir in soup and bring to a boil. Add steak and juices from bowl. Cook, stirring occasionally, for 2 minutes, or until bubbly. Garnish with chopped parsley, if desired.