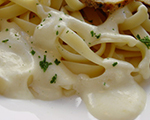 Prep: 5 min
Cook Time: 10 min
Total: 15 min
Serving: 4 Servings
Using canned chicken in this recipe gets this delicious, Italian-inspired dinner on the table in minutes.
Ingredients
2 cans Chicken Breast, drained
8 ounces dry fettuccine noodles
1 cup heavy whipping cream
1 cup Parmesan cheese (4 ounces)
1/2 cup butter, softened
1/2 teaspoon white pepper
Dried parsley to garnish
Directions
Cook the pasta al dente according to package directions and drain.
In the meantime, whisk together the chicken, cream, cheese, butter and pepper in a large saucepan until blended, and heat over low heat until pasta is ready.
Add the cooked noodles to the saucepan and toss to coat. Serve immediately garnished with a sprinkle of dried parsley.