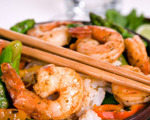 Prep: 10 min
Cook Time: 12 min
Total: 22 min
Serving: 2 Servings
Stir-Fries don't just make an enjoyable and quick dinner meal. They also work well as a wonderfully light and flavorful option for lunch.
Ingredients
1/3 cup uncooked white rice
1 teaspoon dark sesame oil
3 ounces frozen, peeled, deveined shrimp, thawed
1 cup sweet red pepper strips
1 cup snow peas, strings removed
1/3 teaspoon ground ginger
1 teaspoon cornstarch stirred into 1/2 cup chicken broth
1/4 cup chow mien noodles
Directions
Cook the rice according to package directions.
In the meantime, place a wok or a large sauté pan over high heat. Once the pan is hot, add the oil and tilt the pan so the inside is well-coated with the oil.
Once the oil begins to shimmer, add the shrimp and stir fry for 1-1/2 minutes and then toss in the pepper strips, snow peas and ginger. Cook the mixture for 2 minutes, and then stir in the cornstarch mixture and cook for an additional 2 minutes.
Serve the shrimp mixture over the cooked rice, and garnish with the chow mien noodles.