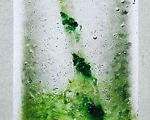 Prep: 5 min
Cook Time: 5 min
Total: 10 min
Serving: 2 Servings
This impressive white rum, fresh lime juice and mint cocktail was first created in the former Queen's Park Hotel in Trinidad.
Ingredients
1/4 cup sugar
1/4 cup water
24 fresh mint leaves, divided
3 tablespoons fresh lime juice, divided
1/2 cup white rum, divided
4 cups crushed ice, divided
1 teaspoon bitters Mole Bitters), divided
Directions
Place the sugar and the water into a small saucepan and boil for 1 minute, stirring constantly, until sugar has completely dissolved. Set aside to cool.
In the meantime, place 2 highball cocktail glasses in the freezer for 5 minutes to chill.
Place half of the mint leaves, 1-1/2 tablespoons lime juice, and 1-1/2 tablespoons of the sugar mixture into each prepared glass. Gently muddle the ingredients and then add the rum and 1 cup of crushed ice.
Swizzle or stir the mixture to blend and then fill each glass with additional crushed ice. Top each cocktail with 1/2 teaspoon of bitters and serve immediately.