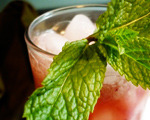 Prep: 5 min
Cook Time: –
Total: 5 min
Serving: 1 Serving
A well-stocked liquor store will have all of the ingredients needed for this slightly sweet, multi-layered tiki cocktail with strong undertones of vanilla and almond, and a spicy finish from the allspice dram.
Ingredients
1 ounce Zaya (Trinidad)
1 ounce Coruba
1 ounce Lemon Hart 80°
3/4 ounce Agavero
1/4 ounce Liqor 43
1/4 ounce St. Elizabeth allspice dram
1/2 ounce orgeat
1/2 ounce lillikoi (passion fruit) syrup
1 ounce lime juice
1 ounce pineapple juice
1 ounce blood orange juice
Fresh mint to garnish
Directions
Place all of the ingredients, except for the garnish, into a cocktail shaker filled with ice.
Shake the mixture vigorously for 30 seconds and then pour into a cocktail glass.
Garnish the cocktail with the fresh mint and serve immediately.