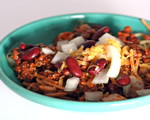 Prep: –
Cook Time: –
Total: –
Serving: 8
Lean and flavorful, ground buffalo is a hearty and healthy base for this spicy, thick chili. Lean ground beef is a fine substitute if buffalo is unavailable.
Ingredients
3 poblano chiles, roasted, stems removed
1 tablespoon vegetable oil
2 pounds ground buffalo (bison)
1 onion, chopped
4 garlic cloves, finely chopped
2 jalapenos, seeded, minced
1 red bell pepper, seeded, chopped
1 teaspoon salt
1 (28-ounce) can roasted diced tomatoes
1 (28-ounce) can tomato sauce
1 tablespoon paprika
1 tablespoon ground cumin
2 tablespoons chili powder
2 (15-ounce) cans black beans, rinsed, drained
1 cup chopped fresh cilantro, divided
Shredded manchego or jack cheese
Chopped green onions
Directions
Place poblano chiles in a blender or food processor and puree, adding a bit of water, if necessary, until smooth. Set aside.
Heat oil in a large heavy saucepan over medium heat. Brown brown buffalo, breaking it up with a spatula.
Add onion, garlic, jalapenos, bell pepper and salt. Cook, stirring often, for about 10 minutes.
Add the tomatoes, tomato sauce and spices. Cook, stirring, 1 minute or until fragrant. Stir in the chile puree, black beans and half the cilantro.
Reduce heat to low, cover pan, and simmer for 1 hour. Season to taste.
Serve with cheese and green onions.