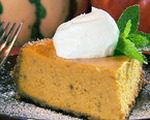 Prep: 30 min
Cook Time: 1 hr 16 min
Total: 1 hr 46 min
Serving: 16
Ingredients
For crust:
1-3/4 cups crushed shortbread cookies (14 to 16)
1 tablespoon butter, melted
For cheesecake:
24 ounces (3 packages) cream cheese, softened
1-1/4 cups packed brown sugar
15 ounces canned pumpkin
2/3 cup evaporated milk
2 large eggs
2 tablespoon cornstarch
1/2 teaspoon cinnamon
1 cup crushed toffee candies
For topping:
2 cups sour cream
4 tablespoons sugar
1 teaspoon vanilla
Directions
To make crust:
Combine cookie crumbs and butter. Press into bottom and sides of ungreased 9-inch springform pan.
Bake for 6 to 8 minutes. Cool on wire rack for 10 minutes.
To make cheesecake:
Beat cream cheese and brown sugar until creamy.
Add pumpkin, evaporated milk, eggs, cornstarch and cinnamon; beat well.
Pour into crust. Bake for 1 hour or until edge is set but center moves slightly.
Remove from oven; top with toffee candies.
To make the topping:
Combine sour cream, sugar, and vanilla; mix well. Spread over warm cheesecake.
Bake for 8 minutes. Cool in pan on wire rack.
Chill for at least 1 hour or overnight.
Drizzle with topping.