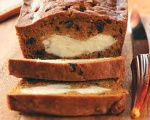 Prep: 10 min
Cook Time: 1 hr 10 min
Total: 1 hr 20 min
Serving: 1 loaf
Delicious Holiday dessert, pumpkin bread swirled with cream cheese filling.
Ingredients
1 (8 ounce) package cream cheese, softened
1/4 cup sugar
1 egg, beaten
1 3/4 cups flour
1 1/2 cups sugar
1 teaspoon baking soda
1 teaspoon cinnamon
1/2 teaspoon salt
1/4 teaspoon ground nutmeg
1 cup canned pumpkin
1/2 cup margarine, melted
1 egg, beaten
1/3 cup water
Directions
Preheat oven to 350 degrees Fahrenheit. Grease and flour a loaf pan.
Blend the cream cheese, 1/4 cup sugar and 1 beaten egg until well mixed. Set aside.
Combine all the remaining dry ingredients, mix in the pumpkin, egg, margarine and water, only enough to moisten.
Pour the pumpkin batter into the bottom of the pan, reserving 2 cups.
Pour the cream cheese batter on top of the pumpkin batter. Then pour the remaining pumpkin batter on top. Take a knife and cut through the batter several times to swirl it.
Bake for 1 hour and 10 minutes, or until a toothpick inserted in the center comes out clean. Allow to cool 5 minutes before removing from pan.