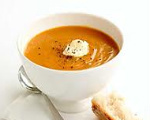 Prep: 15 min
Cook Time: 1 hr 10 min
Total: 1 hr 25 min
Serving: 4 servings
Creamy sweet and spicy pumpkin soup.
Ingredients
3 cups pumpkin, chopped
2 1/2 cups water
1/2 cup chicken stock
1/2 onion
2 garliv cloves
1 1/2 tablespoons butter
1/2 teaspoon hot sauce
1/4 teasppon pepper
1/4 teaspoon allspice
3/4 teaspoon sugar
1 cup milk
1/2 cup cream
1/4 teaspoon nutmeg
salt to taste
Directions
Melt the butter and brown the onion and garlic.
Mix in the chopped pumpkin, water, chicken stock, hot sauce, pepper, allspice and sugar. Cover and heat to a boil. Reduce to a simmer and cook for 30-40 minutes, or until pumpkin is tender.
Remove from the heat and beat until smooth. Mix in milk and cream to achieve desired consistency.
Heat until warmed, top with paprika to serve.