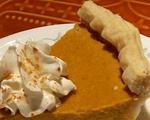 Prep: 10 min
Cook Time: 1 hr
Total: 1 hr 10 min
Serving: 1 Pie
Nothing tops pumpkin pie as the best dessert for fall. Try this favorite today!
Ingredients
1 (15 ounce) can pumpkin
2 eggs
1/2 teaspoon salt
3/4 cup white sugar
1/2 teaspoon ground cinnamon
1/4 teaspoon pumpkin pie spice
1/4 teaspoon ground ginger
1/4 teaspoon ground cloves
1 (12 fluid ounce) can evaporated milk
1 (9 inch) unbaked deep dish pie crust
1 cup whipped cream (optional)
Directions
Preheat oven to 425 F.
Combine sugar, salt, pumpkin pie spice, cinnamon, ginger and cloves in small bowl. In a large bowl, beat eggs lightly and stir in pumpkin and dry mixture. Gradually stir in evaporated milk. Pour into pie crust.
Bake for 15 minutes; then reduce temperature to 350 F. Continue baking for 40 to 50 minutes or until a knife inserted in center comes out clean. Cool on wire rack for 2 hours and serve immediately or refrigerate. If you'd like, top with a dollop of whipped cream.