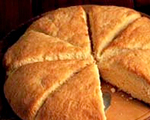 Prep: 10 min
Cook Time: 15 min
Total: 25 min
Serving: 8
Plain yogurt cuts the fat in these orange-kissed pumpkin scones and the zesty orange glaze cuts the amount of sugar needed in the dough. Festive fall spices enhance the pumpkin goodness of this breakfast treat.
Ingredients
Dry ingredients
In a large bowl, whisk together the following:
1 cup all-purpose flour
1 cup whole wheat flour
2 teaspoons baking powder
1/2 teaspoon baking soda
1 teaspoon salt
1/2 teaspoon ground cinnamon
1/4 teaspoon freshly grated nutmeg
1/2 teaspoon ground coriander
1/4 teaspoon ground ginger
1/2 cup sugar
Wet ingredients
In a small bowl, whisk together the following:
2 eggs, lightly beaten
1 cup plain yogurt
1/2 cup pumpkin
2 tablespoons grated orange zest (zest from 1 orange)
Glaze
In a small cup, whisk together the following:
2 tablespoons powdered sugar
2 tablespoons orange juice or more to make a thin paste
Directions
Preheat your oven to 425 degrees F.
Brush a baking sheet lightly with melted butter or spray with nonstick cooking spray.
Add the wet ingredients to the dry ingredients, using a fork to combine until just moist.
Flour your hands and turn the dough out onto a lightly floured surface and knead three or four times to bring the dough together.
Keep your hands floured because the dough will be sticky.
Pat into an 8-inch round.
Divide the dough into eight equal wedges using a knife or pastry cutter (cut the dough like you would a pie). Place on a baking sheet leaving space between them. For a rustic look, divide the dough into eight portions and form into balls before placing on the baking sheet.
Bake until golden brown and fragrant, about 13 to 16 minutes.
Remove from the oven and let cool slightly.
Use a pastry brush to lightly coat each scone with glaze and serve warm.