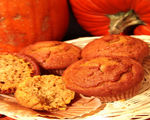 Prep: 10 min
Cook Time: 35 min
Total: 45 min
Serving: 12
The molasses and ginger give these pumpkin muffins a great taste.
Ingredients
Muffins:
1 cup all-purpose flour
1 1/2 cups whole wheat flour
2 teaspoons pumpkin pie spice or Chinese 5-Spice powder
1 1/2 teaspoons baking soda
1 teaspoon salt
1/2 cup sugar or equivalent sugar substitute
1/4 cup canola oil
1/4 cup yogurt
3 large eggs
1 (15-ounce) can pumpkin
1/4 cup light molasses
1/2 cup buttermilk
1 tablespoon minced gingerroot
Glaze:
1 cup powdered sugar
1 tablespoon warm water
1 tablespoon molasses
1/4 cup finely minced candied ginger
Directions
Preheat oven to 350 degrees F.
Spray a muffin tin with nonstick cooking spray.
Sift flour, spice, baking soda, and salt into a medium bowl.
In a large bowl, beat together sugar or sugar substitute with oil until blended.
Beat in eggs 1 at a time, blending well after each addition.
Beat in pumpkin, molasses, buttermilk, and ginger until well-combined.
Stir in flour mixture until just blended.
Divide batter among muffin cups and bake until tops spring back when lightly touched, about 35 minutes. Transfer muffins to a wire rack and cool completely. Meanwhile, whisk together powdered sugar, water, and molasses in a small bowl, adding a bit more water, to make a pourable glaze. Stir in candied ginger.
Place a piece of foil or paper towels underneath the wire rack.
Spoon glaze over muffins, covering the tops and serve. You may not use all of the glaze.